Custom Order Your Porsche

Since the first day the Porsche brand was founded, their vehicles have been meticulously engineered to meet the exacting demands of those who drive them. Porsche vehicles offer race-inspired performance combined with a tremendous variety of design and personalization choices, giving you the freedom to create a Porsche that mirrors your own unique personality.
Here at Porsche Ann Arbor, our team of Porsche Brand Ambassadors is standing by to walk you through the custom ordering process. With seemingly limitless possibilities for customization, we understand that you may have some questions. No matter if you're starting with a blank slate or if you've already chosen your configuration — we look forward to helping you transform your dreams into a reality.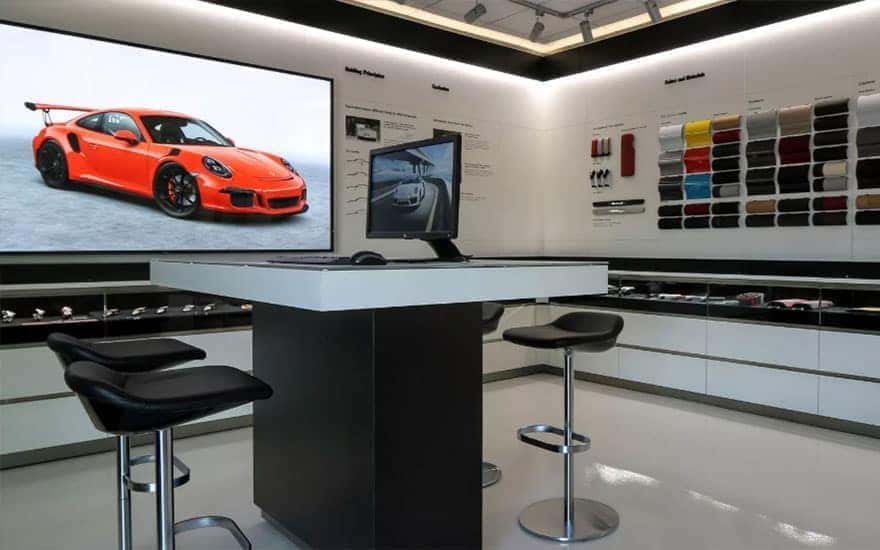 Porsche: enthusiasts & exclusivity
Now that you've begun your search for the Porsche you've always dreamed of, we'd like to remind you of a handful of aspects that differentiate the Porsche brand from other manufacturers. Different from their competitors, Porsche vehicles are simply not produced in nearly the same types of volume as other makes. As a matter of fact, many of the brand's top competitors will sell as many vehicles in the USA alone as Porsche will sell all across the globe!
Due to their limited quantities, you may experience a lower chance of walking into a Porsche dealership and finding a vehicle that's built to your specifications compared to other brands. Fortunately, this is no cause for concern! Porsche places a strong emphasis on the ability of their drivers to personalize their vehicles to their individual tastes. At Porsche Ann Arbor, our Porsche Fitting Lounge is where you can discover the seemingly endless list of customization choices, making it possible to design the vehicle you've always wanted.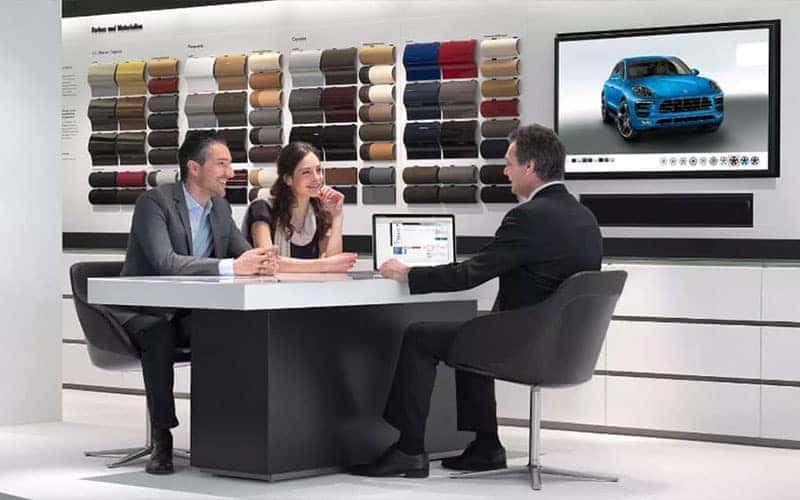 Visit our Porsche fitting lounge
Spanning from exclusive exterior paint finishes and wheel designs to color-contrasted stitching on the upholstery — our Porsche Brand Ambassadors are committed to helping you custom-order your next Porsche vehicle. Rather than settling for a model that's in a dealer's existing inventory, our goal is to cater to your personal tastes and exact desires. To get a head start on the process right from your home or office, simply visit the link below to access the Porsche Online Configurator.
Painstakingly crafted to your specifications, expert designers will devote themselves to ensuring that every inch of leather, every seam, and all other fine details will receive precision care and attention. Both technically and visually from the interior to the exterior of your Porsche, you can choose from a remarkable range of personalization options. Exotic materials such as Alcantara®, carbon, fine wood, genuine leather, or aluminum are only a handful of examples of individual personalization choices. Additional options include:
Wheels
Exterior paint colors
Sport exhaust systems
Porsche Tequipment accessories
Stitching accents
Navigation and communication technologies
Entertainment systems
Interior packages
Our luxurious Fitting Lounge is equipped with all the design tools and resources you need to design the Porsche you've always wanted. Your Porsche Brand Ambassador will be there each step of the way to provide their expert input if desired and to streamline the process. From an idea to a final blueprint, Porsche Ann Arbor is here to make your vision a reality.