Porsche Battery Replacement
One of the most important components found beneath the hood of your Porsche is actually one of the most commonly forgotten about. Power required to start your vehicle, operate your headlights, and use all of your favorite comfort and convenience features inside the cabin is made possible by your battery. With more and more cutting-edge tech and safety features found in modern vehicles, it's essential to take the time to ensure that your battery is in perfect working condition before you hit the road. Our team at Porsche Ann Arbor has created this informative guide that provides you with some of our top tips regarding battery maintenance and service. You can trust our team of factory-certified Porsche technicians to inspect, diagnose, and (if necessary) replace your current battery.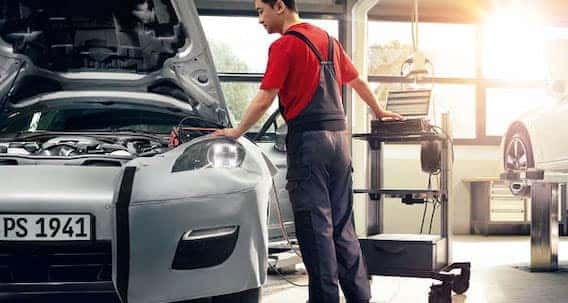 Battery Maintenance Tips
With only a few short minutes, you can prevent any unexpected battery issues by following some of these useful tips and suggestions. Battery maintenance and regular inspections are a great way to extend the life of your battery and vehicle charging system.
Inspect and remove any corrosion buildup that's accumulated around the battery terminals or posts.
To establish a good connection, secure any loose clamps or cables around the battery terminals.
Get into the habit of switching off electrical accessories like interior lighting, radio, or headlights when not in use. This practice extends the life of your battery by minimizing excessive drain.
Take note of the date cost listed on the top or side of the battery housing. This code usually begins with a digit and a letter. 18 would indicate 2018 and it is followed by a number denoting the month A being January, B being February, and so on. The older your battery is, the greater probability that it may need to be replaced.
Be aware of the climate that you live in. Higher temperature areas often have a much harsher impact on the lifespan of a battery compared to a colder climate.

Signs and Symptoms of a Dying Battery
As soon as you begin to experience any of these common warning signs associated with a dead or dying battery, make sure to schedule a service appointment at Porsche Ann Arbor.
Cranking is slow or delayed when starting your vehicle
A Check Battery warning light has appeared on your dashboard
Corrosion buildup has been spotted around your battery terminal posts
Interior or exterior lights begin to dim under normal use
Why Shop Car Batteries at Porsche Ann Arbor
Since your battery plays such a critical role beneath the hood of your Porsche, don't trust just anyone to service or replace it. When you bring your vehicle to Porsche Ann Arbor, you'll enjoy confidence and peace of mind from the knowledge that it will receive expert attention from our team of Porsche-certified technicians. Our facility has state-of-the-art repair equipment and diagnostic tools that are necessary to properly service or install your battery.
Better still, we carry a complete selection of Genuine Porsche batteries that are designed to meet or exceed the original specifications of your Porsche vehicle. No matter if your battery is starting to act up or if you're simply curious about its health — you can count on our team at Porsche Ann Arbor for all of your battery service and replacement needs.