2018 Porsche Cayenne

About the Porsche Cayenne
The Porsche Cayenne can fit almost any lifestyle. It's versatile and roomy for families, yet it possesses road and track performance to satisfy racing enthusiasts. There's a Cayenne for everyone within the line-up, starting with the base Cayenne model, the amped up GTS, the powerful Turbo and Turbo S and E-Hybrid plug-in. The Porsche Cayenne is full of cutting-edge technology such as Connect Plus, Porsche Communication Management with Navigation, BOSE® Surround Sound-System and much more. The cabin not only offers cutting-edge technology, but also high-quality materials and excellent seating comfort. With the combination of performance, roominess and quality, the Porsche Cayenne lineup is very much worthy of your consideration.
"The 2018 Porsche Cayenne is a richly appointed luxury SUV that earns its Porsche badge. It's one of few cars on the road that manage to feel special in standard or top trims." — The Car Connection
"The 2018 Porsche Cayenne is one of those vehicles that has a broad range of appeal. On one hand, it's an SUV that is focused on performance, yet it's very luxurious and easy to live with on an everyday basis. There's also a wide breadth of powerplants, from a base V6 to a hybrid model, all the way up to a stout V8." — Edmunds.com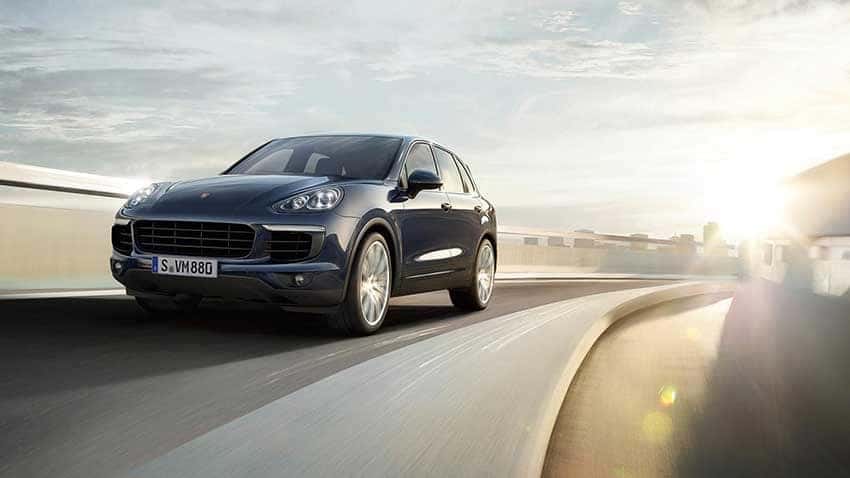 Unbeatable Performance
Regardless of which Cayenne you choose, it's going to be a blast to drive. The E-Hybrid can go 0 to 60 in only 5.4 seconds while the Turbo S can go 0 to 60 in 3.8 seconds. You can't go wrong with any powertrain of the Cayenne line up. It ranges from a 3.6-liter V6 with 300 horsepower to a 4.8-liter twin-turbocharged V8 with 570 horsepower.
Porsche Torque Vectoring Plus sends power to the outside wheel during cornering which helps you achieve the highest levels of agility and traction. A high performance vehicle deserves high performance brakes. The Cayenne has just that. Optional Ceramic Composite Brakes have more stopping power, less fade and longer rotor life.
You can be confident on an off-road environment in the Cayenne, thanks to its off-road control that features three modes for improving off-road capability. These modes provide optimum traction and will help you tackle the most difficult terrains.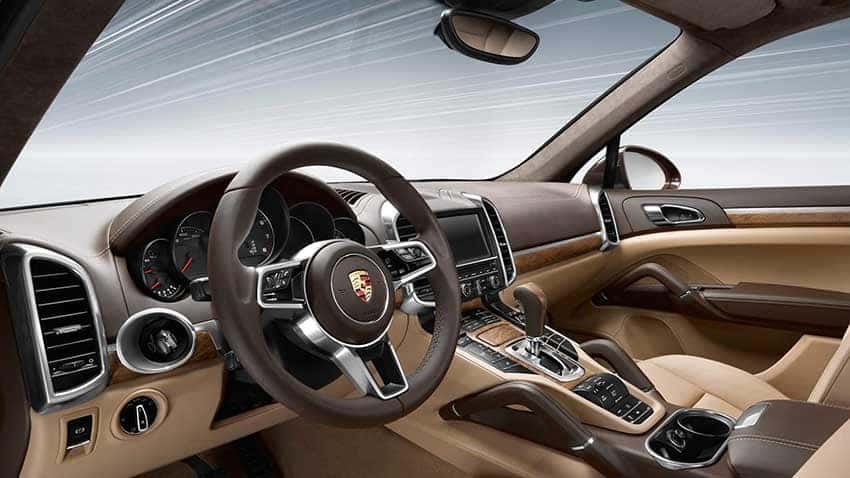 Accommodating Interior
The interior design of a Porsche may arguably be the best in the world, thanks to its artistic aesthetic with finely stitched leather and real wood and metal accents. The cockpit of the Cayenne is designed specifically around the driver where everything is within easy reach. Your passengers will feel at home sitting in the sliding and reclining seats while being entertained by the 7-inch color touchscreen on the front headrests.
There is a wealth of customization and appearance options available. Whether you want to change the look of the interior or want a sportier performance, you can build a Cayenne to fit your own personal taste.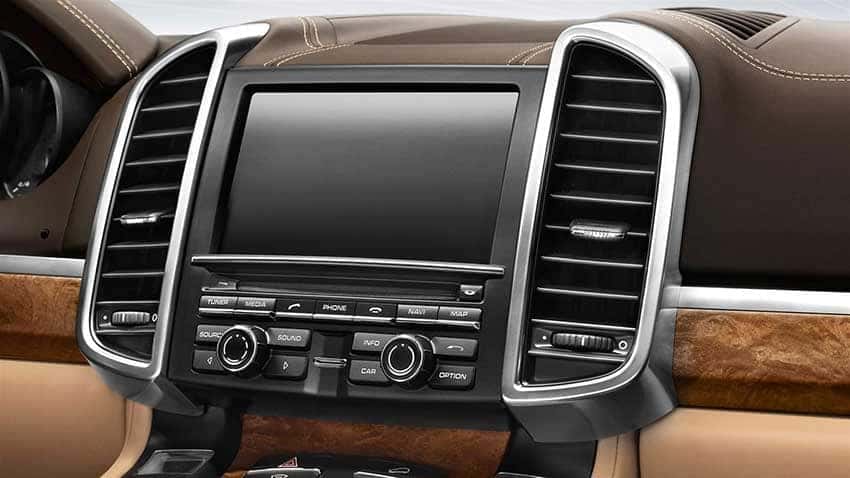 Futuristic Technology
The Cayenne comes equipped with modern technologies we all appreciate in a vehicle. The Porsche Communication Management system comes with a 7-inch touchscreen, navigation and voice activation. The navigation offers real-time traffic info and integration of Google Earth and Google Streetview. Also available is Connect Plus which features in-car Wi-Fi and enables smartphone integration via Apple CarPlay.
For the ultimate concert experience for your vehicle, BurmesterⓇ High-End Surround Sound-System and BoseⓇ Surround Sound-System are available. If you're looking for a sportier setup, the Sport Chrono Package includes an analog and digital stopwatch, the SPORT PLUS button and performance display in the Porsche Communication Management. When you press the SPORT PLUS button, the engine will become more responsive and steering will be more direct.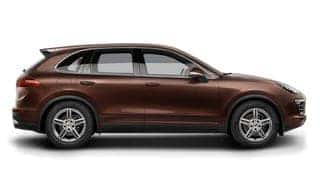 Cayenne
Starting MSRP $60,600
3.6-liter V6 engine Producing 300 Horsepower
0-60 in 7.3 Seconds
19/24 Estimated MPG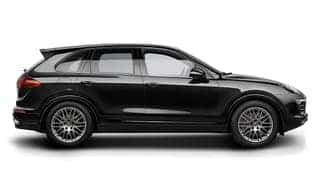 Cayenne Platinum Edition
Starting MSRP $66,700
3.6-liter V6 engine Producing 300 Horsepower
0-60 in 7.3 Seconds
TBD MPG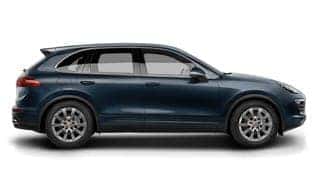 Cayenne S
Starting MSRP $77,400
3.6-liter V6 engine Producing 420 Horsepower
0-60 in 5.2 Seconds
17/24 Estimated MPG
Cayenne GTS
Starting MSRP $98,600
3.6-liter V6 engine Producing 440 Horsepower
0-60 in 4.9 Seconds
16/23 Estimated MPG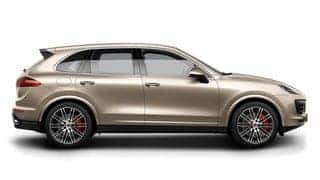 Cayenne Turbo
Starting MSRP $118,100
4.8-liter V8 Engine Producing 520 Horsepower
0-60 in 4.2 Seconds
14/21 Estimated MPG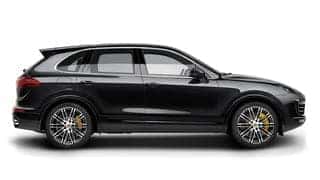 Cayenne Turbo S
Starting MSRP $161,600
4.8-liter V8 Engine Producing 570 Horsepower
0-60 in 3.8 Seconds
14/21 Estimated MPG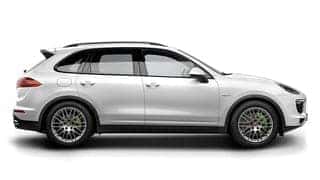 Cayenne S E-Hybrid
Starting MSRP $79,900
3.0-liter twin-turbo V6 Engine Producing 333 Horsepower and Electric Motor Producing 95 Horsepower
0-60 in 5.4 Seconds
47 MPGe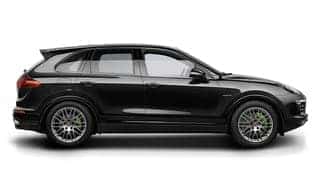 Cayenne S E-Hybrid Platinum Edition
Starting MSRP $82,800
3.0-liter twin-turbo V6 Engine Producing 333 Horsepower and Electric Motor Producing 95 Horsepower
0-60 in 5.4 Seconds
TBD Estimated MPG